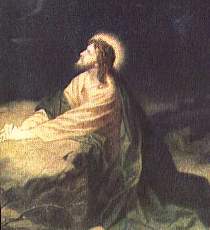 "And when He had fasted forty days and forty nights, afterwards He was hungry. And the tempter coming said to him: If thou be the Son of God, command that these stones be made bread. Who answered and said: It is written, Not in bread alone doth man live, but in every word that proceedeth from the mouth of God." (Mt. 4; 2-4)
Links for Lent:
Download the free virtual rosary!
Examination of Conscience (thanks Lorraine!)
Online Bible (Douay-Rheims)
Try Catholic audio (downloadable) for Lent
Here is a quick run down of what we are reading during Lent:
For Children:
For Teens:
For Adults:
(The photographic guide book that goes with the movie is not available on Amazon, except in the protestant version. This is a guide to questions about The Passion of the Christ. The photo guide book, Catholic version, is available form Tan publishers. Please click here to see this book.)
Music, Movies and Masses:
And We've got the food covered, too!