and a
Classical Education
"He learned sword-fighting and riding, swimming and diving, how to shoot with the bow and play on the recorder and theorbo, how to hunt the stag and cut him up when he was dead, besides Cosmography, Rhetoric, Heraldry, Versification, and of course History, with a little Law, Physic, Alchemy, and Astronomy."
-- C. S. Lewis, from Prince Caspian
Please feel free to browse through the links here. Click on the text for permanent links to general sites (Amazon, The Tea House, The National Gallery of Art, etc.). Click on the graphics for direct links to books, music and art. These direct links reflect my opinion, and will be updated regularly. Return often for my recommendations!
Good books

Excellent tea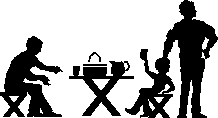 Nature Study

Art