22 States, 16 Days, Countless Species
Sadly, most of those species ended up on our windshield.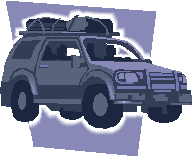 ---
In this page, I recount our family visit to America, our home and yet a largely undiscovered country. In fact, so much of it had been unexplored (by us) that we were truly awed. It all started as a road trip to visit Libby, who spent the summer at the music festival in Aspen, Colorado...
Click on the "thumbnail" photos to see them better.
---
My dh announced, after weeks of secret planning, that we would be taking a trip to the western part of the US. We had flown over most of the

country, transferred at airports, and seen all the "westerns" ever made, but we were not at all prepared for the beauty of the American west. Really...we were not prepared. We were also surprised at how far everything is from one point to another; we have a new respect for distances. And then, there was the wildlife. And the storms. And the skies.
Don announced that we would leave on Monday or Tuesday (turned out to be Tuesday) on the Thursday before we left. I scrambled to get Paul to the orthopedist (he had broken his arm on our last great adventure), vaccinate the dog and drop him off at the kennel, find someone to look after the birds (parakeets), find an automatic fish feeder, and get all the laundry done and packed so we could come home to a clean house. Of course, I whipped out my adventurers bible, Adventuring with Children, by Nan Jeffrey (after all these years I need a refresher from time to time). We packed lightly as per the author's advice, except Don, who insisted on dress shirts, and ties, and enough clothes for the whole trip. In fact, he had about 50% of the packing for the five of us. I analyzed the Honda Pilot (highly recommended vehicle for families of 6 or 7), and decided that "limo mode" would be the best arrangement. In limo mode, the middle seats are folded down so that the kids in the third row have tons of leg room. The luggage and cooler go behind the third row, and the laptop with videos for the evening hours (GPS also) sits just behind the front row. Perfect. The gap between the third and middle rows is filled with sleeping bags, pillows and books for the ride. Everyone is comfortable, and I do most of the driving.
We left New York on Tuesday morning, and headed due west through New Jersey and Pennsylvania. This is familiar territory, as we have camped in the mid-Atlantic region many times. When we left Pennsylvania for Ohio, we felt our adventure had truly begun. Well, not really. We did not stop to see anything at all, in Ohio, Indiana, Illinois, or most of Missouri, though we did wake the kids up as we passed through St. Louis. The Arch was brightly lit, and the city was like a jewel. But we drove on.
I love to drive, and frequently drove through the night. This, our first night on the road, was not a difficult drive at all! The landscape was varied, an the moon was with us for the first half of the night. The kids fell asleep, and I just kept driving, until we got to Kansas. We wanted to visit Benedictine College (we have a friend who is very interested in attending), and get some information, so the GPS computer took us on a shortcut through some farmland. It was delightfully hilly, and we crossed the Missouri into Atchison around 8 am. The campus was easy to find. The admissions office was not quite as easy to find, as administration is being renovated, but we found it, and got a quick tour and information packet. We drove on to Wichita.
We stayed at the Hyatt where the annual Catholic Conference was held, though we arrived two days early. We had a room on the 16th floor, with a view of the Arkansas river. The kids immediately insisted upon heading down to the rivers edge. The river bank was strewn with litter and debris, and it was very hot out, so they soon opted for the pool, followed by a few games of chess in the big comfortable lobby. This was fine with us, as Don and I needed to sleep after that long overnight drive.
The next day, we did our sight seeing. Wichita has a great Exploration Place, a not-to-be-missed restoration called Cowtown, a fine zoo, and, not far from the city, an air-and-space museum called The Cosmosphere (when visiting the Cosmosphere, my sister in law called to say that one of our pet birds had escaped from his cage while she was feeding him--she managed to capture him while we kept her on the line). While all were interesting and worth the visit, Cowtown was most interesting to me, and I spent a good deal of time visiting with the "farm wife" and asking her questions. She told me about the animals kept on the farm, and how the cows had escaped a few weeks back and headed into town. I thought she meant "Cowtown" on the other end of the property, but she meant down town Wichita!

The zoo was also a highlight. I like to visit the local zoo whenever I travel, time permitting. I was not disappointed this time. The collection includes animals from many regions, including a fine display of Australian fauna in a great habitat.
Cowtown itself was a collection of old buildings and houses bought by the historical recreation and placed along an avenue. Some of it was a bit grim...the trader's hut had rotting buffalo hides in piles (were they real?); the undertaker's place had coffins on display (Paul, left, could not resist trying one on for size); and the medicines in the apothecary looked way worse than most diseases. Other shops were lovely, especially the fabric store. The blacksmith shop always draws a crowd.
The next morning, we visited the Cathedral, and went to check out the conference facility. The conference itself was terrific, with many inspiring speakers, programs for the kids, and shopping! I met Linda Nelson of Sacred Heart Books and Gifts, who has the most complete "Real Learning" catalogue of any shop I have seen at any conference. Oh, and if you ever want to meet people at a conference, it is best to stand by a book shelf displaying a friend's book (Like Cay Gibson's Catholic Mosaic, as was the case this time), and encourage people to buy it! What a great conversation starter!
After the conference, we decided to head right to Aspen, doing our overnight drive again. I tweaked our trusty GPS so that our route took us through Dodge City. We did not have time to stop, but it was still daylight when we passed through. In Dodge, and the surrounding area, the big (and I mean BIG) thing is cattle feeding stations. Some boasted an 11,000 head capacity! I mean, I have seen dairy farms before, but this was beef--a very different industry. We got out of Dodge just before sundown.
One of the nice features of the GPS system is the altitude display. As we headed towards Aspen, our altitude rose steadily. Sometime in the middle of the night, we crossed the Continental Divide at over 12,000 feet. And the temperature had dropped dramatically. When we left Wichita, the temperature was 96 degrees F. At the top of the divide, the temperature had fallen to 41 chilly degrees! Sometime along the road, we realized, our climate control system had switched from air conditioning to heat. As we approached the divide, it was around 3 am, and the nocturnal animals were out feeding. A surreally huge doe elk was in the middle of the road. She waited patiently for us to look and walked to the side of the road as we passed. We saw several deer as well, but a real treat was seeing two large porcupines ambling along the edge of the road. Don got out a the Continental Divide and took a big flashlight with him, startling many deer in the night.
I was getting a bit tired by this time, and we drove slowly back down the mountain into Aspen. At about 4:30 AM, we stopped at the gas station in town for a rest, and discovered that gas was $4 a gallon! Now, we were traveling at the peak fuel price time, but we had not seen gas over $3 a gallon since we left NY. $4 a gallon was a shocker! Needless to say, we did not fill up in Aspen.
We drove to Libby's "home" and slept in the parking lot until about 8am. Folks in Aspen were up getting breakfast, jogging, and sitting in the sunshine. Libby was still asleep, we discovered as we knocked on her door. No one answered. We called her cell phone, and told her that there was a package for her outside. A few minutes later a very surprised Libby was silently hugging us! The overjoyed Libby took us to the best place for breakfast in Aspen (we agreed!). Later that morning, Don and I checked into our hotel room in th
e nearby village of Snowmass where a room for the night was more reasonable priced than in Aspen. Our lodge room was right outside the pool, so the kids could swim in the evening. While we were checking in, and doing laundry, the kids were hiking with a friend of Libby's. They hiked over creeks, and up mountains, all in one afternoon.
We had dinner at some place called "New York Pizza" which was pretty close to the real thing. Libby had another great idea...ice cream! Overpriced, once again, in Aspen, the ice cream did come in exotic flavors. I had something that approximated Irish Cream. Yum. We delivered her back to her apartment, and met her very nice room mates, who had gotten over our rudely awakening them that morning. Libby's actual room mate (they were 4 girls to a two-bedroom supervised apartment) was lovely, and a very neat girl who kept Libby's messy habits in line. We left her for the night with plans to meet in the morning after breakfast, and headed back to our lodge. Despite the cool weather of 60 degrees, the kids had an evening swim. I slept very well, knowing we would be leaving the next day...
The next morning we picked up Libby after her orchestra class. She took us to an Asian restaurant for lunch. Again, it was great. I was beginning to worry that she had been spending way too much money on outside food. Her meals were pre-paid in her tuition bill, but she said the food was dreadful, and occasionally unrecognizable. I asked to see her meal card. It was not quite halfway used up, and she had only two weeks left. I dreaded a look at her bank statement, but it turns out that she was playing in quartets around town, including playing for the board of directors meeting of a very profitable online investment firm, for big bucks...and eating the profits.
After our meal, we headed down to road to a ghost town. The ghost town is currently inhabited by funny little ground squirrels. They came quite close, and we soon learned to imitate their call, brining them even closer.
Could we head to Aspen and miss seeing a concert? No! Libby had a studio class in the afternoon, but there was a conductor's concert (student conductors are so cute) right afterwards. Unfortunately, while we were waiting for her class to end, Trip decided to take a hike. When she got out, we realized he was missing. This is so typical of Trip. Every time we go anywhere, he goes off by himself and gets lost. Sometimes the park rangers find him and bring him back, though most of the time he finds his own way; he has a good sense of direction. But we were going to be late for the concert... I sent Don up the mountain to look for him, be he was no where in sight. I left Don sitting on a rock to wait for Trip, and the rest of us went to the concert, which featured three young conductors. During the intermission, Don called to say that Trip was back, safe and sound. Typical Trip. Back at the apartment, we bade goodbye to Libby. It was sad, but knowing that she'd be home in two weeks made it easier.
We ended up leaving quite a bit later than we had originally intended, but it was all for the best, as we shall see. Leaving Aspen, we turned west, cutting through Utah, and headed for Arizona.
The roads through the American West are not well lit. In fact, they are not lit at all. fortunately, we had a full moon during our drive that night, and it illuminated some geological wonders. Large "reefs" loomed above us, eerie in the moonlight. No camera we had on us could do them justice, so you'll just have to take our word for it, or click on the link for daytime photos. We needed to get gas sometime in the middle of the night, and met an Indian couple who were waiting to meet up with their daughter, who was very late. We had not seen the car they described, and we wondered later if she arrived safely. As we headed off the main road towards the Grand Canyon, there was only one car behind us, and no cars in front of us. It was mighty dark. We could see the shadow of trees looming on either side of the road, and we could see the occasional pair of eyes in our headlights, but that was it, except for the car on our tail. We drove on this straight road for what seemed like forever. Finally, we passed the checkpoint into the north rim of the canyon at about 5 am. The station was closed, but the gate was open, so we went in, without paying the fee; timing is everything. We parked in the lot and our friend behind us, who was from Ontario, thanked us for guiding them into the park! Then, I fell asleep while everyone else watched the sunrise over the canyon.
The north rim is greatly undersold. It has a wonderful depression era lodge, but only 10% of the GC visitors head to the north. The north is cool, lush and green, in contrast to most of the photos I have seen of the dry south rim. When I awoke, I saw wildlife--warblers, hummingbirds, striped squirrels, and more. The kids had already seen the view, and insisted that I get out and see it, too.
Did I ever mention that I have a great fear of heights? The kids took me out on to the ridge, and my, was it high! The north rim is higher than the south rim, they say. I wasn't measuring, but this was enough for me. I got dizzy and sat down. One woman offered to get help (mind you, there was no way I could actually fall) while Annika stood laughing at me. So, I examined the rocks that were right next to me, which were full of crinoid fossils. When we got back, we went to the bookstore where we bought An Introduction to Grand Canyon Geology, and a hard-to-find copy of Brighty of the Grand Canyon on DVD. Turns out that it is now widely available, but I had not look again since a fruitless search several years ago, so it was thrilling to find a copy. And since we brought the laptop for movie viewing on the road after sundown each night, the kids were glad to have a new DVD.