Spring Rain, Spring Mud
Topic: General information
Whenever someone points out that we have not had rain in a while, nature seems to make it pour with a vengeance. This week, parts of the island got 12 inches of rain, and there have been some roads washed out and some close calls for houses, especially on the north shore.
For my back yard, it caused a big change--from dust bowl to mud puddle. Struggling grass and weeds were refreshed, then drowned by the pelting rain. Out front...well, we will probably be getting a notice of unmowed lawn from the village any minute, as the lawnmower is in the shop.
On the bright side, the violets, which are usually blooming nicely in March, have held off their purple blooms until April, and they look great! Mixed with pretty periwinkle, they make a seamless groundcover under the arborvitae.
So far, my favorite part of spring has been visiting Alice's big back yard. Last week, her crew found a gray tree frog, and the kids got a great close-up view of our local chameleon!
Powered by Qumana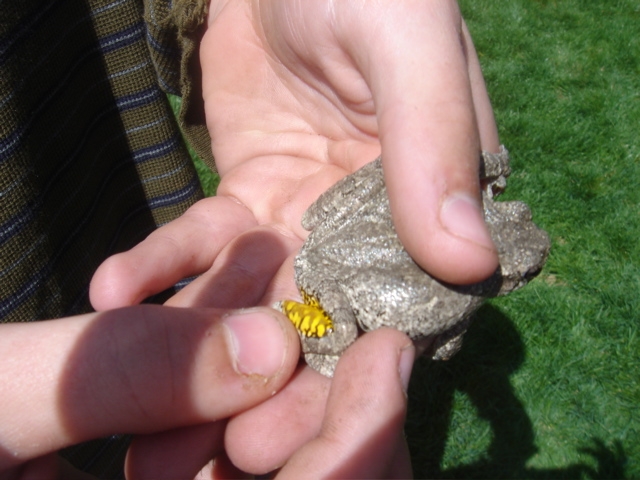 Our current books:
Picture book--
That's What Happens When It's Spring!
Mid-grade Novel--
The Time Garden
High School Reading--
Wuthering Heights
Posted by MacBeth at 10:03 AM EDT
Updated: Tuesday, 25 April 2006 10:33 AM EDT