Great Children's books for Summer readers:
Younger kids:
Toasting Marshmallows: Camping Poems
The Great Frog Race and Other Poems

Mr. Carey's Garden (how will he solve the snail "problem?")
Snail House (an evening read)
Time of Wonder, Blueberries for Sal, and One Morning in Maine (you'll re-read these for years)
Voyage to the Bunny Planet : Moss Pillows/Island Light/First Tomato/Boxed Set (the Island Light is the best of these sweet stories of imagination)
Fireflies! (grab a jar!)
Night in the Country (where it's really dark)
Rainbows are Made (poems by Carl Sandburg)
---
Older kids: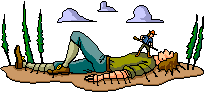 Use the summer to expand your vocabulary with
. This does not work well as a read aloud beyond the first chapter or two, but can be enjoyed by all ages who can wade through the challenging word use. I read the first chapter aloud and the older kids finished it by themselves.
The Harp and the Laurel Wreath (one of those books that came to the beach with us)
Gulliver's Travels (classic)
The Railway Children (end of spring and beyond)
Gone Away Lake (summer vacation turns into a magical mystery). Follow with Return to Gone-Away
Thimble Summer (summer adventures on a Wisconsin farm)
Browse here for more by Elizabeth Enright; each is full of adventure, and beautiful descriptions of natural history:
Strawberry Girl (Florida, early 1900's)
Swallows and Amazons (adventures in England's Lake District. Read this before Pigeon Post)
For more Swallows and Amazon books and videos, click here.
The Wouldbegoods (the summer adventures of the Bastable children-- a favorite of C. S. Lewis)
The Secret Garden (classic)
The Jungle Books (Kipling really knew what kids like)
The Time Garden (very punny; takes place on the South Shore of Massachusetts, and throughout the history of the area history! Very CM!)
Edward Eager's Tales of Magic boxed set. The Time Garden, and more! Great collection!
Magic Summer (out of print, check the library)
Emil and the Detectives (1930's Germany is the setting for this detective adventure; OOP, buy it used)
From the Mixed-Up Files of Mrs. Basil E Frankweiler (run away to the Metropolitan Museum of Art)
The Sign of the Beaver (Indians and a settler boy get to know each other)
Blue Willow (depression era)
The Twenty-One Balloons (high adventure--and a volcano, too)
The Secret of the Ruby Ring ("all the rage" with the 8-12 year old girls at a conference a few years ago)