The Adventure at Mystic Seaport

A TrekReview by Trip Derham, age 8
We went to Mystic Seaport in Connecticut last Monday (3/21/2000). Here is what we did:
We saw a 3-d map of Mystic Seaport. Then somebody stamped our hands with a boat stamp to show that we were in, and that we didn't steal our way in. We went to a big factory where workmen were building a boat (the Amistad). A nice lady showed us all kinds of wood. there was a big barrel full of all different kinds of wood chips. She let us take them in and match them up with the samples inside the building.

After we left there, we went to the Galley to eat. I ordered fish 'n' chips. I didn't think it would come with fish. It didn't come with potato chips, either. It came with French fries. I left my wallet there by accident. We went from there to an old boat working house. It was like a museum. That's when I noticed that my wallet was missing. I went back to get it. When I came back, I got to go inside a huge building where they make rope. My brother Paul showed me around. Then we explored the boats. I think the Second one, the "Morgan" was the best [see photo]. I got to go way below deck, into the cargo hold. It was really big. Annika didn't want to come down because it was too scary for her. It smelled stinky like sea water. I felt like we were going to sink any minute. It was pretty dark! On the middle deck, where the men slept, we saw a violin case. On the top deck, we saw flags. We learned that the flags were the letters for the ship's license plate: JPNB. Libby, Annika, and I got to fold the big American flag. You can see the flag we folded at the far left in the picture. Do not let the American flag touch the ground! The crewman gave us a really cool string that smelled like a campfire. It was coated with pine tar to help preserve it. We took the string home.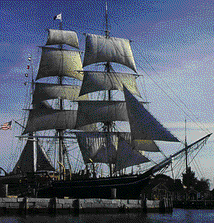 We went to a shop that sold candy. It also had a bank with Jonah and the Whale on it. We got to make Jonah throw pennies into the whale. Then we left and went into the school. We heard voices [recorded] of what they said back then. The teacher was talking to a boy named John. "Are you carving on your desk again?" Then we left to go to the gift shop, but it was closed. A lady said that there was another shop at the entrance. So, I got a present for my dad, a knot-tying game, and a bookmark with the flag signals on it. We went upstairs to the bookshop. There I got a shark tooth kit. We also saw a bunch of Swallows and Amazons books. Then we checked out and left.